Seattle International Foundation (SIF) is thrilled to announce that Adriana Beltrán will become our new Executive Director on September 16, 2021. Following an extensive international search, Adriana was selected to guide the organization through our next phase of impact and growth, and will become the third Executive Director in our organization's history.
In Adriana, SIF has found an expert leader committed to social justice with deep experience working with public, private, and diplomatic organizations throughout Central America and the United States. Adriana has been a long time advocate for human rights and democratic governance at the Washington Office on Latin America (WOLA), serving most recently as Director for Citizen Security. As a director at WOLA, Adriana focused on citizen security, rule of law, and human rights, across Central America. She led an innovative program in partnership with local organizations that developed a series of indicators to evaluate progress in the areas of violence reduction, strengthening of judicial institutions, and tackling systemic corruption, among others.
Adriana has championed numerous advocacy initiatives, including for the establishment of a UN-sponsored commission to investigate and prosecute organized criminal networks linked to the state—an effort that culminated in the creation of the International Commission against Impunity in Guatemala (CICIG) in 2007. Much of Adriana's passion to fight corruption, impunity, and violence against women and other minoritized groups stems from her own lived experiences of injustice in her home country of Colombia.
Adriana is an internationally respected human rights advocate with an outstanding track record for developing new initiatives and seeing them to fruition, and SIF is honored and excited to welcome her as our new leader. Furthermore, she is a published writer on the issues she cares about deeply. She is the co-author of the ground-breaking study "Hidden Powers," which documents the rise and impact of clandestine criminal organizations in Guatemala following the 1996 signing Peace Accords. Recent publications include topics on root causes of forced migration, the impact of COVID-19 and corruption, police reform, and how the fight against corruption can be won in Central America.
Adriana unites traits important to SIF: She is a bridge builder, talented organizational leader, seasoned team builder, and adept at working across sectors with deep experience collaborating with public and government officials in the region and in the United States. Her extensive experience in building effective partnerships and cross-sector efforts, combined with her personal commitment to human rights and Central America, will make a profound contribution to SIF's mission and vision of good governance and equity in the region through support for rule of law and the strengthening of civil society.
Given her expertise and experience, Adriana is the ideal leader to guide SIF forward in fulfilling its mission to reduce poverty and inequality, and increase opportunity especially for underrepresented communities.
SIF is thrilled to welcome Adriana as our new Executive Director – a new leader in line with our commitment to the issues that will support a more just and inclusive future for Central America.
For more information about this announcement, please contact Peter Bloch Garcia, SIF's Interim Executive Director, at peter@nullseaif.org.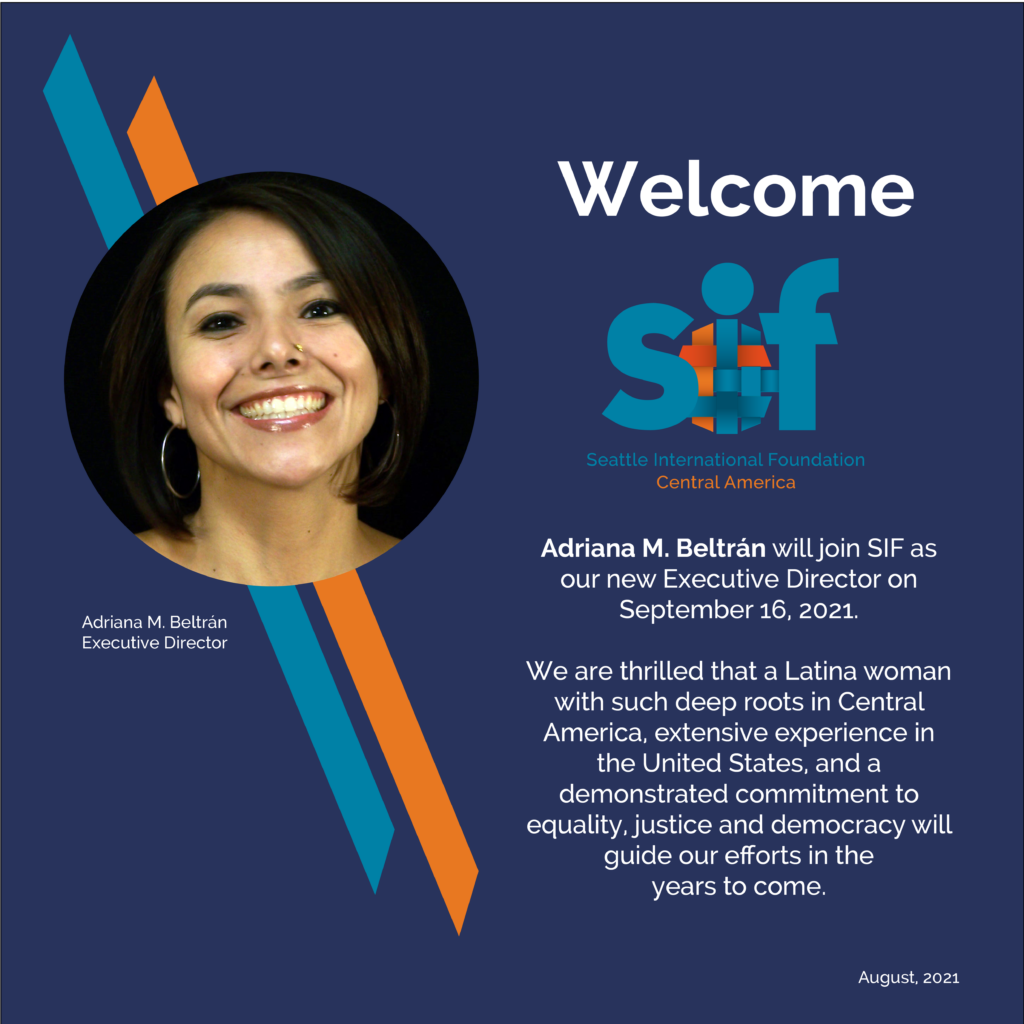 About Seattle International Foundation
SIF champions good governance and equity in Central America through support for rule of law and a robust civil society. SIF has granted more than $24 million to 243 high impact organizations in 81 countries. In addition to its grant making portfolio, SIF implements key program initiatives in the region, including the Central America Donors Forum (CADF), the Central American and Mexico Youth Fund (CAMY Fund), the Centroamérica Adelante leadership program, Anti-Impunity Fund, Central America in DC, and the Independent Journalism Fund.
SIF was founded in 2008 as a supporting organization to the Seattle Foundation for the purpose of increasing and enhancing international philanthropy and development from the Pacific Northwest. In 2018, SIF refined its strategy to focus 100% of its efforts on Central America. SIF has staff based in the United States, Mexico and Central America. To learn more about the Seattle International Foundation, visit www.seaif.org