The International Women's Media Foundation's (IWMF) campaign will run from October 1 to 31. During that time, IWMF invites us to use social media to share photos and stories of courageous journalists whose voices are and have been an essential part of history.
Amid a global pandemic and a reckoning for racial justice, women journalists remain on the front line and they are under attack – women journalists around the world are exposed to innumerable health and safety risks simply for doing their jobs. For that reason, IWMF suggests we use this month to show women journalists that we recognize them, we appreciate them, and we celebrate their work and contributions. We have chosen to join in that effort!
Below, we have prepared a list of invaluable and courageous journalists in Central America—women who are at the forefront of media, developing content that analyzes power structures and investing in new journalistic talent in the region: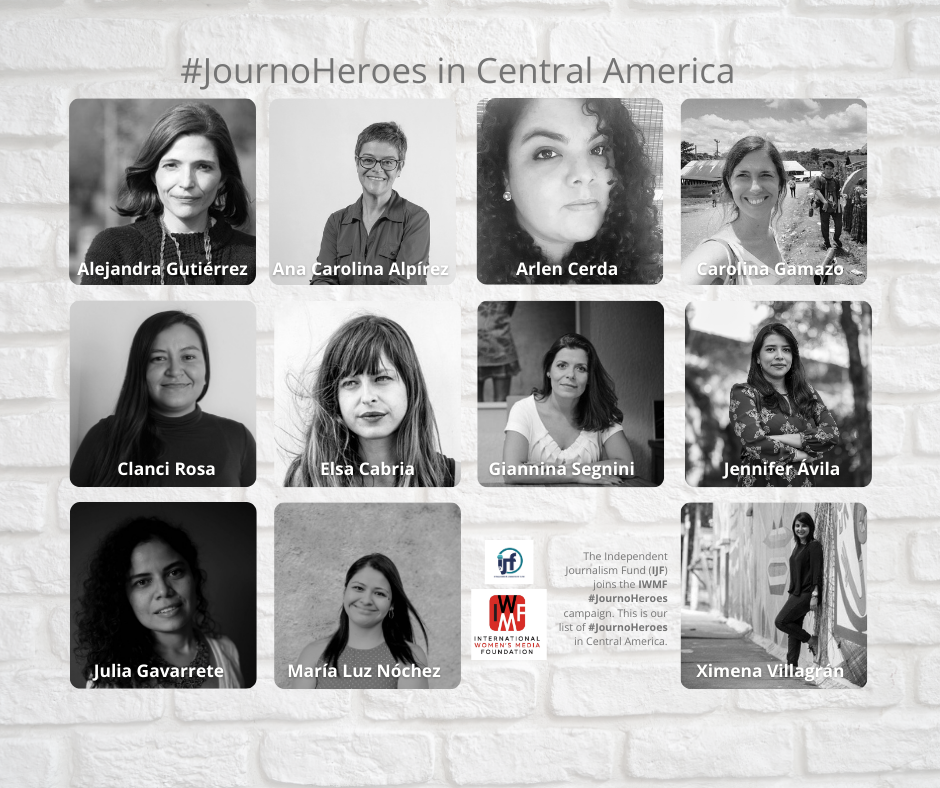 This list is not complete; it is rather an invitation to join the #JournoHeroes campaign and share your heroes in journalism.
Tips for Social Media:
Ways you can promote your #JournoHeroes
Be sure to tag the IWMF in every post! We want to share and amplify your posts.

Facebook: @IWMFPage
Twitter: @IWMF
Instagram: @theIWMF

Use these hashtags to join the conversation: #JournoHero #JournoHeroes #FierceWomenJournos
Need inspiration for graphics? Customize these Canva templates below!

Instagram stories
Instagram in-feed posts
Twitter/Facebook posts
Sample posts:
We are joining @IWMF this month to shift the gender imbalance in the news industry and celebrate women #journoheroes. One of our heroes is [Insert Hero here] – we honor her remarkable work covering [topic].
Women journalists are everyday heroes, working at the frontlines to make sure the story gets told. We're grateful for [Insert Hero here]'s resilience and incredible work on [topic]. Tell us and @IWMF one of your #journoheroes!
Who are your women #Journoheroes? [Insert Hero here] is one of ours. Join us as we celebrate women storytellers at the frontlines of change with the @IWMF in October!
It's time women journos' are heard. That's why we're amplifying the voices of our women #journoheroes with @IWMF this month! [Insert Hero here] is our hero because she [insert reason here].