Aligned with our commitment to drive positive social change and support social movements, Seattle International Foundation (SIF) staff will take a civic day on June 12 to engage with the Black Lives Matter movement. Staff based in our Seattle headquarters will join the Washington State Silent March and General Strike in Seattle, while our staff based in other parts of the U.S., Mexico City and across Central America will use the day to learn, take action and explore avenues to fight racism in their communities.
At SIF, we work to champion good governance and equity in Central America through rule of law and a robust civil society. We acknowledge that racism is an ongoing threat to that mission and is a global crisis that requires coordinated action, humility, and persistence. 
As part of the Civic Day of action on Friday, June 12, our Seattle staff will be participating in a statewide day of action in Washington. The day of action will include a general strike and a silent march to honor and mourn the lives lost to police brutality and institutional racism.  We will stream the march live on our Instagram account @seaif starting at 2pm (4:00 EST, 12:00 pm CST and 13:00 pm CDT).
Members of our team participating from their homes or who reside outside of Seattle will speak on the issue of racism in public forum, will create artwork in support of Black Lives Matter, will read articles and books on anti-racism, join the march via social media, and more activities.
The Silent March in Seattle starts at 1:00 pm in Judkins Park, a multipurpose park corridor in the Central Area of the city. The over 5,000 participants anticipated to attend will join together and silently make their way to Jefferson Park, about 1.8 miles south of the march's starting point. The march will take about 90 minutes.
In an effort to continue to mitigate the spread of COVID-19, our staff will follow the rules set out by the organizers of the march, Black Lives Matter Seattle-King County, to maintain 6 feet distance and bring appropriate facial coverings, gloves, and hand sanitizer.
Our Statement Black Lives Matter. Las vidas negras importan
While the world is captivated by the international Black Lives Matter movement, we have a unique opportunity to face the devastating role racism has played in our world. We cannot achieve just, peaceful, and prosperous societies in Central America without examining the societal anti-blackness in which we are all immersed. 
For many, the trauma and pain caused by racism and racial violence are not new; they have long been endured, which is why addressing this injustice can no longer wait. To be authentically anti-racist, we recognize we need more than statements, we need to do the hard work to dismantle unjust systems that perpetuate white supremacy, racism, and discrimination around the world. We also need to be creative in imagining a world without racism and innovative in building a more equitable society in which all can live freely.
SIF commits to rooting out systemic oppression, engaging in conversation, and centering the perspectives of those most directly impacted by injustice.
Together, through action, education, and determination, we can effect lasting change and drive social transformation within our communities and across the continent.
Black Lives Matter. Las vidas negras importan. In our communities. In our countries. Across continents. Around the world. Black Lives Matter.
On June 1, SIF put out a statement following the news of George Floyd, an African American man whose death at the hands of the Minneapolis police sparked a movement against police brutality and racial injustice. Our statement read, "Just as we fight for equity and rule of law in Central America, we reject racism, violence, and hatred against the Black community in the United States. Now, more than ever, it is important that we support and defend equality and justice. #BlackLivesMatter #JusticeforGeorgeFloyd #Icantbreathe"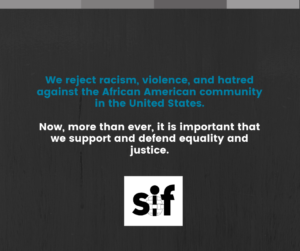 A glimpse at how we will be engaging on this Civic Day:
"I plan to attend the BLM march in Seattle, donate to BLM Seattle, read Toni Morrison, watch James Baldwin interviews, and engage with friends who have been protesting on a near daily basis, and read more about the lives of George Floyd, Breonna Taylor and Ahmaud Arbery." –Nate, Seattle, U.S.A.
"I will participate in the Silent March, create anti-racism content highlighting disabled women of color, read up on anti-racism efforts and defunding the police, and learning more about the lives of Breonna Taylor, George Floyd, and Ahmaud Arbery." – Anna, Seattle, U.S.A.
"I will participate in the BLM march in Seattle and read The 1619 Project (NYT) about the impact of slavery in modern-day America." –Mirte, Seattle, U.S.A.
"My family and I will make signs and join the Seattle BLM march activities." –Julie, Seattle, U.S.A.
"I am volunteering and participating in the Strike and March organized by BLM Seattle-King County." –Laura, Seattle, U.S.A.
"I have been following the media and some advice I've seen from the BLM movement are to donate and support the local black community and businesses near you, and to face bullies when you see racist attitudes. In Mexico, the biggest problem with racism is related to discrimination against indigenous people and even criminalization of poor people. So, I'm supporting local businesses run by young activists and defending their cause in every way I can." –Lariza, Mexico City, Mexico.
"I will participate in the recording of a TV program at University of Costa Rica about racism in Costa Rica, including a contextual analysis of the US vs. Latin America and structural racism." –Xiomara, San Jose, Costa Rica.